Victoria (#562-16)

Victor and Victoria will be coming to MACSPRO from Puerto Rico. Victor and Victoria came from a terrible situation in which the owners moved out of their home and left their two Shar-Peis shut inside with no food, no one looking after them, no way to get out, no nothing.
Victor and Victoria require serious medical attention as they were left abandoned in a closed house without food or water. Volunteers had to work hard to rescue Victor and Victoria from the abandoned house as there was a lot of rubble and stuff barricading the dogs.
We really need fosters once Victor and Victoria arrive to us--please let us know if you can help!
Update (01/2016): Here is a wonderful update on how Victor and Victoria are coming along! And again, we'll need fosters when they arrive in the USA from Puerto Rico.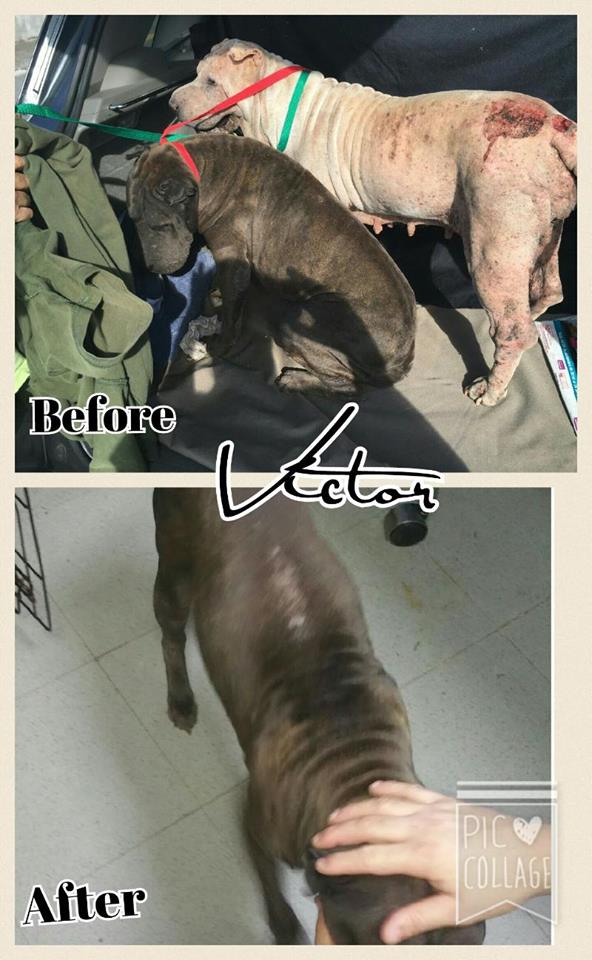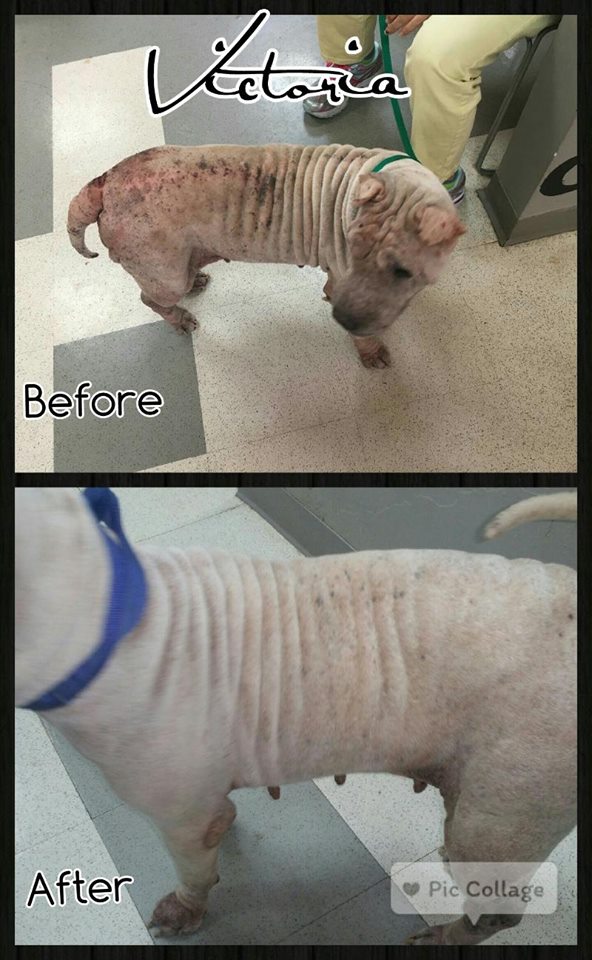 Update (4/7/2016): The vet removed a mass on her paw and sent it out for biopsy. It shows that she has a grade 1 cancer, that is probably the best kind to get if you have to have cancer. It is not aggressive and her prognosis is excellent. However, because the mass was situated directly on her paw, where there isn't much extra skin to play with, she ended up with a nasty wound that got infected. She has been staying at the vet's from Monday through Friday where they do a daily routine to remove the patch, which stimulates the skin underneath to grow back. Once she is through this process, they will go back in and remove the so-called dirty borders that were left from the original removal of the mass. Despite all this, she is a happy camper and loves seeing people and getting attention. She is going to make someone a wonderful companion....
Update (06/2016): Victoria is still in Puerto Rico, we would like to place her in a foster home when she gets here.  
Update (07/18/16): Victoria is super mellow. Gets along with others, even alpha females. Likes to keep mostly to herself in front of the fan.  Loves to get hugged and kissed and squished, mushed up.  She is a ham, very easy to dress up with hats and scarves; loves to pose; easy going. She will be coming to Maryland very soon and we really need a foster home for her. We do not want to put her in the boarding kennel. 
Update (09/29/2016):  Victoria has a foster waiting for her in Annapolis as soon as she gets here.   We're waiting for the cooler weather to fly her up here. 
Update (10/20/2016): Victoria is now living with a foster in Maryland!
Update (11/02/2016): Victoria is a very well mannered little girl, very calm and very obedient.   Just wants to be a lap dog and loves being around people, getting petted & hugs!
Update (11/16/16): Victoria has found her forever home with Holly in Laurel, MD. Congratulations, all!